The risk of a new tech bubble and how to respond as entrepreneur
A heat-up of valuations and transaction activity in the tech industry raises concerns that we have arrived in the next tech bubble. The fundamentals are different to 1999/2000 but the cheap money incentivizes investors to take riskier bets. History shows the vulnerability of the tech surge to an increase of interest rates. As entrepreneur you should prepare your operational plans to adequately respond to the possibility of a bubble and survive the next down-cycle.
A next tech bubble?
2014 was a busy year for the tech industry so far. Almost every month we get news of billion-dollar transactions (Microsoft's acquisition of Mojang for $2.5bn being the latest) and the IPO path is widely used, too. The listing of Alibaba at NYSE in September broke the record of the world's biggest IPO. A total of 368 million shares (14.9% of the company) were sold in the offering, bringing the total amount raised to $25bn at a company valuation of $170bn. In the first month the stock price increased from the IPO price of $68 to $115 (or more than 68%!).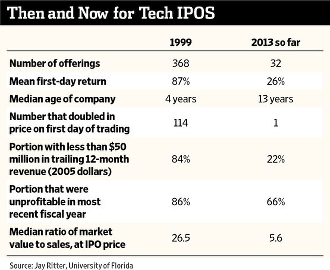 Are we in the next tech bubble? The Wall Street Journal published by the end of 2013 an interesting comparison of the IPO environment between 1999 and 2013 and provides arguments for a negative answer to the question. Companies that are being IPOed today are more maturethan in 1999, they have a more senior management and showed the ability to generate sales (and with the exception of Twitter also profits). This was not the case in 1999/2000. (A good example: When Pets.com Inc. completed an IPO in early 2000, it had recorded lifetime sales of about $6m. Less than 11 months later, the company had dissolved.)
Facebook – widely criticized after the listing with a decline of share price from $38 to $18 in the early months following the IPO – steadily increased revenues and earnings and today trades at $76 (doubled since IPO). In the third quarter 2014 it reported revenues of $3.2bn (+64% yoy) and income of $800m. Based on full year estimates of $12.4bn revenue and $8.1bn EBITDA it corresponds to a EV/EBITDA of 24.8x and EV/Sales of 15.9x (for 1999 IPO companies the median EV/Sales was at 26.5x).
But the signs for a bubble are increasing:
Whatsapp (acquired by Facebook for $21.8bn) reported a loss of $138m in 2013 ($232m in the first six months of 2014) against revenues of $10.2m ($15m), bringing the EV/Sales multiple to stunning 2'137x.
Twitter recently announced that revenue doubled yoy in the third quarter to $361m (corresponds to an EV/Sales of 16.3x in 2014E), but in the same period still reported a loss of $176m.
Also Linkedin reported its thirds quarter revenues end of October at $568m (+45% yoy) but couldn't make it into the profit zone (loss of $4.3m). Linkedin currently trades at 10.3x EV/Sales.
We have seen a number of (high-quality) early stage investment cases recently where the founders – driven by the recent deals – have unrealistic valuation expectations (double-digit pre-money valuations for pre-revenue companies).
A lot of the rally in valuations is caused by the minimal interest rates on low-risk investments orchestrated by the national banks in Europe or the US, which are incentivizing investors to place riskier bets in search of bigger returns ("cheap money chasing riskier bets"). The tech surge is clearly vulnerable to higher interest rates. When the Fed started raising interest rates in late 1999, the NASDAQ bubble popped the following March. Will we see this again?
Should we care about a bubble?
Many would argue that the capitalist economy is cyclic. But should we care about the possibility of a bubble?
In an interesting blog on Business Insider Barry Schuler distinguishes between speculators and value builders: A speculator makes money betting on upward and downward changes in the market. A value creator builds things that are meant to thrive despite the changes in the market. (Unfortunately many entrepreneurs are in reality speculators in disguise, trying to catch a wave. This is what happened in the dot com bubble.)
If you are a speculator, all you care about is cashing out at the top or bottom of the cyclic wave (depending on whether you are long or short).
As a value creator you need to tune out all the bubble talk. Your job is to determine the general location on the wave that you believe we currently occupy. There are four possible places: at the bottom, ascending to the top, at the top, or descending to the bottom. If you are a value builder, you must have real operational plans for each of these zones. They can't just be ideas in the back of your head. They must be real, written plans.
Barry Schuler provides a few tips that will keep you on solid footing no matter what the economy is doing.
Cash is king. If you are expanding a business, you are likely consuming cash. The No. 1 cause of cyclic death is running out of cash around the bottom of the cycle, when capital is hard to find. Heed the old adage, "The best time to raise money is when you don't need it." No truer words were ever spoken. Always have a war chest, and manage it well.
Have the right investors. Many investors are speculators themselves; their job is to find the wave, ride it, and cash out as close to the top as possible. These types are momentum players who are willing to pay high valuations to get into what they perceive is a hot company. Have a healthy respect for these investors, but look for investors who are value creators with a long-term investment horizon. They may not be willing to pay irrational valuations but will be your best allies in difficult times.
Run lean and mean. This is so easy to say but very hard to actually execute. It's human nature to relax when times are good and start upgrading the furniture at the office, taking the team on lavish retreats, expanding the expense account goodies, etc. Just say no. Make sure your CFO is an absolute hard-ass about keeping the company lean. This includes being diligent about terminating marginal employees and not overhiring in anticipation of growth.
If you really are a value builder, you'll have a plan to survive the next down cycle, which we guarantee will come at some point. And if you are really excellent at creating something special, you will live to see the economic-bubble movie over and over.
comment
back to the aasa blog