360° financial and strategic offering
at aasa we take a holistic view on our client. Our team of seasoned professionals brings more than 40 years of experience in company management, strategy definition or execution of corporate finance transaction. Our partnership with Mergers Alliance provides us with true global reach. We endeavor to build a long-term relationship with our clients and become the trusted sparring partner on all important strategic or corporate questions.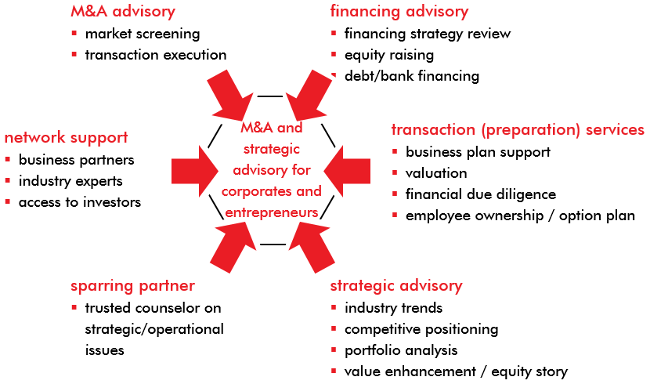 our services in detail
M&A advisory
aasa is best positioned to support mid-sized companies on sell-side or buy-side mandates. We identify the targets with the best fit, assist with content and presentation of marketing materials, contact a targeted list of quality candidates, present the merits of the transaction professionally and persuasively, coordinate due-diligence requests and documentation, provide guidance in deal terms and market conditions, negotiate with interested parties and expedite execution of closing documents in collaboration with the client's counsel.
financing advisory
aasa helps its clients to optimize their financing strategy. We provide advice on the best financing structure and execute equity raising or debt/bank financing. We invest a lot of time in identifying the right investors and/or bank to ensure the best strategic fit with the current stakeholders of the client's company.
transaction (preparation) services
be it the development of a new business plan, a professional valuation of a company, the execution of a due diligence or the definition and implementation of an employee ownership or option plan: our client can rely on our theoretical and practical expertise gained from our roles both as investors and advisers.
strategic advisory
aasa helps analyze and understand major industry trends, determine their competitive industry position, evaluate strategic needs and options, and eventually identify the relevant transaction universe. Together we shape strategic vision.
sparring partner
it is an expression of trust that most of our long-term clients rely on us as a credible counselor on strategic and operational issues. We provide an outside view to the status quo. Only by forcing to think out-of-the-box new solutions to problems can be found.
network support
the aasa team can rely on a strong network and access to corporates and senior individuals in numerous sectors from financial services to industry, technology, healthcare, IT / new media and academia. We provide access to potential business partners, industry experts or investors.